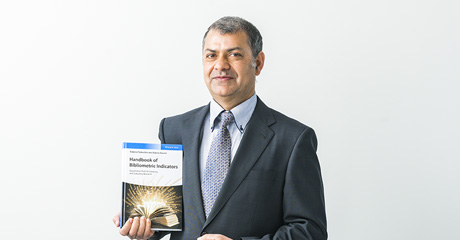 Career History
Pitambar Gautam is a Nepalese citizen, who obtained the secondary education first in rural setting and then at Tri-Chandra College in Kathmandu. He joined Leningrad Mining Institute in 1978 and graduated with joint degree of Master of Science in Geology (Geophysics) and Mining Engineer/Geophysicist in 1983. Under the Japanese MEXT scholarship (1987-1990), he studied paleomagnetism at the Faculty of Science, Hokkaido University, and received the title of Doctor of Science. For about 20 years between 1983 and 2003, he served as a Lecturer at Tribhuvan University (Nepal) and taught graduate level courses in geosciences (geophysics, geochemistry) and conducted research in geomagnetism and environmental pollution with active participation and contributions in international collaborative research programs on the Himalayas involving mainly academics from Nepal, Japan, Germany, France, and the USA.
After moving to Hokkaido University (Japan) in 2003, Dr. Gautam served in the capacity of the research program coordinator and post-doctoral researcher for a 5-yrs long MEXT-sponsored 21st Century COE Program for "Neoscience of Natural History" (2003-2008). This job involved organization of museum-based public seminars, organization of international seminars, and promotion of interactions with numerous academics, research fellows and graduate students among others from Japan and abroad. As a faculty at Creative Research Institution (CRIS) of the same university during 2008-2022, he was engaged in research support programs spanning across multiple disciplines and departments, and also promoting university-industry-government collaborations under the Hokkaido University Research & Business Park Project. In addition, he initiated the analysis of citation-based research publications indicators, for use by university executives in judging the research performance of prolific researchers and research teams, at institutions affiliated with CRIS.
Responsibilities as URA member at Hokkaido University
While serving as a CRIS faculty, Dr. Gautam collaborated with the research analytics team of the university research administrators (URAs), Office for Institutional Research, and staff for global relations. His primary responsibility was to assist the university executives, especially the Vice Presidents for Research and International Affairs, by providing evidence-based data required for effective planning of the research strategy and globalization of Hokkaido University. As a Research Fellow at the Office for Enhancing Institutional Capacity, his current focus is on the long-term (since the corporatization of the national universities) analysis of research performance, research strengths identification at institutional, departmental and researcher levels, research benchmarking and university branding.
Personal Statement
Research performance analysis, initiated as a part of the research support programs at CRIS, was extended to the university level to encompass all departments, institutes and research centers after the establishment of the URA system at the university. This led to building a solid base of research analytics data generated after disambiguation of research publications for the research entities (organizations, projects and individuals), sharing data with needy internal organizations, and use of data in creating various databases, bibliometric analysis and science mapping. In this context, Dr. Gautam will be happy to share his knowledge and skills in the field of research performance analysis (bibliometrics and scientometrics).
Links to research activities and scientific publications by Pitambar Gautam:
researchmap: https://researchmap.jp/gautam?lang=en
ORCID:https://orcid.org/0000-0001-8297-4359