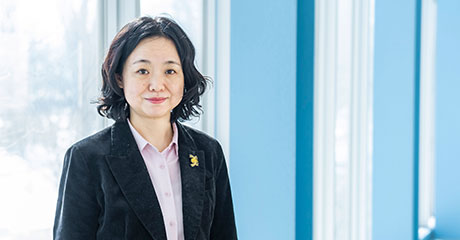 Career history
After graduating from a university in China, Ms. Wang worked as a public servant and an employee of a Japanese-affiliated company before coming to Japan to study. She completed a Ph.D. course in Social Psychology without degree (with full credits) in the Graduate School of Humanities and Sciences, Ochanomizu University. In Japan, she served as a project researcher, a part-time lecturer in psychology, an education and research support staff member in Japanese universities, and as a researcher at a public research funding agency. She assumed her present position in August 2020. Since 2014, she has been chiefly engaged in investigative studies and planning regarding the future of transdisciplinary research (or Science of Team Science), in which stakeholders from different disciplines and sectors work together to identify and find solutions to challenges facing the real world, as well as investigative studies and planning of measures to support and promote such research.
Responsibilities as a URA at Hokkaido University
She chiefly takes charge of human resource development (Support for Pioneering Research Initiated by the Next Generation (SPRING) Program), subsidies for journal publications, and collaboration with external research institutions, among other responsibilities. She never ceases studying to meet the expectations for URAs: exploring specific tasks by themselves, identifying problems and planning, proposing, and implementing tasks based on an evidence-based understanding of the mission of the university and other circumstances.
Personal statement
How I became a URA at Hokkaido University
I became a URA for two reasons. Firstly, I was looking for a job with responsibilities like those of URAs because I considered their work truly rewarding. Secondly, I was interested in and curious about Hokkaido.
The aspects of being a URA at Hokkaido University that I have enjoyed
The best aspect of my work is that I can work where specific transdisciplinary approaches are necessary.
Self-promotion (free description)
I may be the type of person who considers work as a hobby or who turns a hobby into a profession.
What I always try to do as a URA at Hokkaido University
I make it a rule to embody the mission of the URA Station by carrying out my daily work effectively and efficiently while forming a mental picture of open-minded Hokkaido University researchers brimming with life and confidence thriving on the global stage.