Kiyohiro Houkin, President of Hokkaido University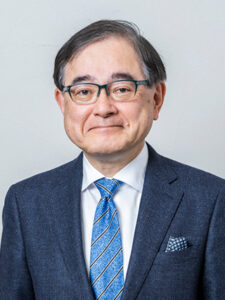 Hokkaido University (HU) has unique, proud features concerning its founding, background, geopolitical standing, vast and beautiful campus, harmony with the environment, diverse academic and faculty aspects, and role as a core university in the region.
As we are poised to celebrate the 150th anniversary of the founding of our university in 2026, we are forging ahead with institutional reforms of research, education, and various other aspects based on our Future Strategy for the 150th Anniversary, subtitled "Contributing Towards the Resolution of Global Issues." My visions for the institution beyond its 150th anniversary are "unparalleled university" and "shining a light from Hokkaido upon the world." True to our unique characteristics, these visions represent the future of our institution as a leading research university that contributes to the resolution of local and global issues through its world-class education, research and co-creation with society.
To turn the visions—"unparalleled university" and "shining a light from Hokkaido upon the world"—into reality, we need to join hands, not only with other members of the HU community, but also with external research institutions, private businesses, local governments, and various other organizations. Since its establishment in 2012, our University Research Administrator (URA) Station has brought these stakeholders and HU members together and encouraged the creation of university knowledge in a wide variety of fields like research, education, public relations, and industry-academia-community collaboration—for example, by promoting university-wide research projects, building world-class research centers, and promoting the utilization of research results—and achieved significant results in giving back to local communities and society at large. The URA Station plans and proposes initiatives across the boundaries of departments and administrative organizations based on a solid understanding of what university management means. Their roles will become increasingly important to realize our vision and university reforms.
As we move forward, I am confident that our URAs, who are equipped with in-depth knowledge in various fields, will shine in their respective fields, build networks of personal contacts, promote inter-university cooperation, enhance HU's research capabilities and value through international collaboration, and perform assessment of research capabilities, including their social impact.
Takao Masuda, Executive Vice President of Hokkaido University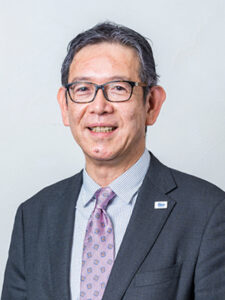 Originally founded as Sapporo Agricultural College in 1876, Hokkaido University (HU) is a leading national university in Japan. With its long historical background, HU has contributed to the development of higher education and science and technology in Japan and elsewhere based on its four basic philosophies of frontier spirit, global perspectives, all-round education, and practical learning. Today, HU has 12 undergraduate schools and 21 graduate schools as well as research institutes and other organizations, and serves as a leading regional research university with advanced research capabilities on the forefront of various fields.
Since HU is a university that is closely related with the local community, it is also expected to help resolve local issues. Ideally, our contribution to the community should be evaluated by local residents and government officials in the target areas that benefit from our research results. However, an evaluation method has yet to be established due to the myriad of challenges, including the complex problem of optimizing the entire community system; integration of the humanities, science and engineering; and reflection of local needs and demands in the evaluation criteria.
Tasked with strategic planning of university management and practical implementation of reforms, the URA Station has taken advantage of the wide array of knowledge and experience of URAs (University Research Administrators) with various backgrounds to enhance institutional capacity, develop an environment conducive to research development, and promote practical learning. As we move on, I would like to implement new initiatives building on existing ones. For example, it would be interesting to evaluate the value of projects such as the Hokkaido Prime Bio-community, in which industry, academia, government, and local residents participate, by indexing the level of well-being and happiness that the project has brought to the local residents, in parallel with research. Such experience will hopefully contribute to diversifying the career paths of URAs, including those in academia. I also feel the need to establish an organization that will foster the development of researchers and doctoral graduates with high-level expertise necessary to help solve local issues and flexibility to integrate perspectives, and that will also support their career paths —an organization that will serve as a symbol of the leading regional research university.
As we move ahead with new initiatives, I am confident that our URAs, who have worked diligently on new projects, will play a central role in Hokkaido University.