The URAs' Self-Introductions
Member
---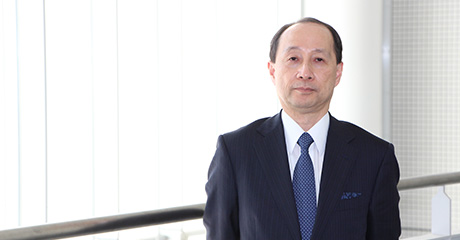 Hiroshi ABE / Director, Specially Appointed Professor
Career history
After completing a master's degree at the Tsukuba University Graduate School of Technology and Science, Hiroshi Abe began working at a chemical manufacturing company. While employed there, he completed his doctoral degree in engineering at the Interdisciplinary Graduate School of Science and Engineering of the Tokyo Institute of Technology.
Responsible for plastic materials, molding technologies, and product development, he was stationed in Europe, where he selected technical information and introduced in-house technologies to Europe. He was responsible for new businesses, from planning to promotion management, at an in-house think tank company, and was also responsible for finding research partners and venture companies, mainly in Europe and North America, and promoting internal development. In the Environmental Management Department, he conducted environmental management of the entire company and actively promoted ESG and SDGs.
He has served as an examiner at NEDO and JSPS and as a visiting professor at Tohoku University, Hiroshima University, and a temporary lecturer at Osaka University, etc.
He was appointed to his current position in October 2019 and has a special interest in manufacturing, technology promotion, and human resource development.
"My whole motivation is to be grateful for every moment and every day in my life. I enjoy cooking and having afternoon tea with my wife on weekends."
His responsibilities as a URA at Hokkaido University
Keeping in mind the Future Strategy for the 150th Anniversary of Hokkaido University of becoming "a university that contributes to the resolution of global issues," as a URA, Dr. Abe would like to plan and propose new initiatives to the university. He intends to focus on university management, collaboration with the local government, and start-ups.
Personal statement
What I want to work on as a Hokkaido University URA
This is the only university in Hokkaido capable of fully exploring nature's infinite possibilities. I want to make it a world-class hub that attracts both students and government-industry-academia collaboration from all over Japan, Asia, and the world.
My love for Hokkaido University
Hokkaido University gave me a new life after my company career as a professional, new possibilities, and challenginge opportunities. I'm grateful that I was proud to could become a member of Hokkaido University, and I want to do my best to contribute toward its progress everything.
My goal as a university management staff member
Since they were being implemented seven years ago, the Hokkaido University URAs are beginning have started to get proud results. My goal is to take this progress further and develop URA human resources that can contribute and succeed not only at Hokkaido University and in Hokkaido but also in Japan and throughout the world.
---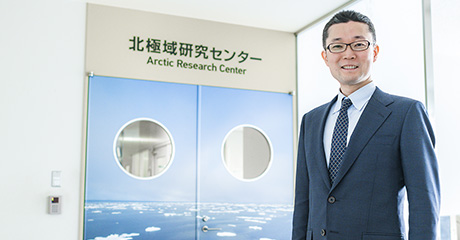 Shingo TANAKA
Career history
After graduating from Sapporo Nishi High School, Dr. Tanaka enrolled in the School of Agriculture, Hokkaido University. He entered graduate school at Kyoto University, where he completed his doctoral degree in the Division of Applied Biosciences, Graduate School of Agriculture. Today he holds a PhD in agriculture. He specializes in ecology, and his research focuses on using insects to understand changes (evolution) in the relationship between alien and native species. In 2008, he came to Hokkaido University, where he worked as the coordinator for a multilateral education program on sustainability science. Later, in 2012, he joined the Research Development Section as a URA. Since then, his work has focused on international collaboration initiatives, including the Arctic research program. Since 2018, he has participated in management as vice chief of the section.
His responsibilities as a URA at Hokkaido University
Top Global University Project
As a member of the joint faculty countermeasure team formed by directors, faculty, and administrators, he has participated in everything from proposing ideas and preparing application documents to conducting interviews. His proposals were accepted, and his team was given the President's Prize.
Promoting Arctic research
He led the establishment of the Arctic Research Center. After it was established, he obtained accreditation for the center as a MEXT Joint Usage/Research Center in collaboration with external research organizations.
World Premier International Research Center Initiative (WPI)
This was adopted after four requests spanning a period of about 10 years. He handled everything from collecting information in advance to proposing ideas, managing internal coordination, and preparing application documents.
Personal statement
How I became a URA at Hokkaido University
When I attended an introductory seminar on the tasks of URA, I thought it was just another everyday job. The tenure positions were attractive.
The kind of work I want to do from now on as a URA at Hokkaido University
At my previous job, I was also involved with educational programs and became interested in graduate school education. I want to be able to discuss research and education while looking past any barriers that might separate them.
Open-ended personal statement
My international work has extended from the Arctic to tropical regions and deserts. Since I was originally a field researcher, I have been known as a person who can withstand relatively extreme environments. If you need a URA who is an expert in survival, call on me.
---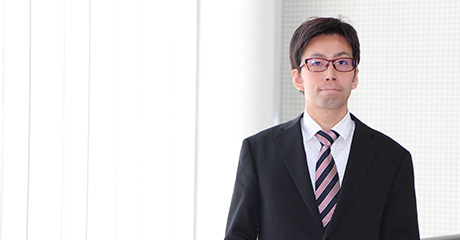 Yoshiyuki ABE
Career history
Yoshiyuki Abe graduated from the dDepartment of Marine Biology and Sciences of the Faculty School of Fisheries Sciences inat Hokkaido University and completed his doctoral Ph.D. degree at the Graduate School of Fisheries Sciences (JSPS Research Fellowship for Young Scientists DC1), specializing in marine bioecology fisheries sciences . Prior to assuming his present post, he was a Hokkaido University Postdoctoral Fellow (Arctic Challenge for Sustainability) and worked at the Alfred Wegener Institute (in Germany) and the Atmosphere and Ocean Research Institute of the University of Tokyo (JSPS Research Fellowship for Young Scientists PD). He has been engaged in research on the ecology of marine plankton collected by shipsresearch vessels through oceanographic observation of the Pacific Ocean and the Arctic Ooceans (e.g., and the elucidation evaluation of marine plankton phylogeography using haplotype analyses)using genes.
Details: https://www.researchgate.net/profile/Yoshiyuki_Abe3
His responsibilities as a URA at Hokkaido University
Promotion of Global Facility Center (GFC) projects
KAKENHIakenhi-related projects
Work related to regional collaborative research
Young researchers support projects
Personal statement
Because I have liked fishing and winter sports since I was a child, I fell in love with Hokkaido. As a Hokkaido University URA, I want to try many different things with a pioneering spirit and work hard to contribute as much as possible to Hokkaido University, an institution that has been key to my professional growth.
---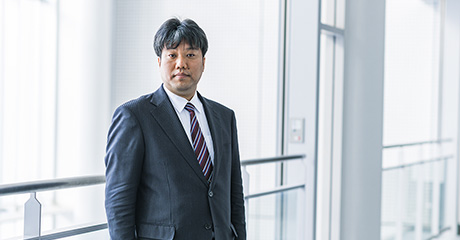 Naosuke OKADA
Career history
Dr. Okada graduated in geophysics from the Faculty of Science, Hokkaido University. Then, after completing the course requirements in the Graduate School of Environmental Earth Science, Hokkaido University, he completed his PhD in environmental earth science. He specializes in the analysis of numerical experiments performed by computers to study ocean currents and climate change. He obtained his degree in 2003 based on research on the convection process accompanying the formation of sea ice. Beginning that year, he did postdoctoral work at the National Institute for Environmental Studies on "research on the prediction of global warming using a high-resolution atmosphere-ocean coupled climate model," which is part of the Project for Sustainable Coexistence of Humans, Nature, and Earth by the Ministry of Education, Culture, Sports, Science and Technology (MEXT). In 2007, he joined the Faculty of Environmental Earth Science at Hokkaido University as a postdoctoral researcher. Since 2008, he has worked on the "Establishment of a Center for Integrated Field Environmental Science," a Global COE program of MEXT. He received a special appointment as an assistant professor in 2009. For about two and a half years, he oversaw the administration of the program and worked as a liaison between faculty and the administrative division. He was appointed as a URA in 2012.
Details: https://researchmap.jp/read0107629/?lang=english
His responsibilities as a URA at Hokkaido University
Analyze the university's research capabilities (e.g., citations of its published papers)
Supervise the application to MEXT for the Program for Promoting the Enhancement of Research Universities; he has operated the program since its adoption
Plan for researcher support programs
Personal statement
My aims as a university administration and management professional
By taking advantage of my past work experience, I aim to help realize Hokkaido University's vision as an institution that contributes to resolving global problems. I aim to support researchers by further advancing educational and research activities, securing the required resources, and creating the necessary mechanisms for advancement.
---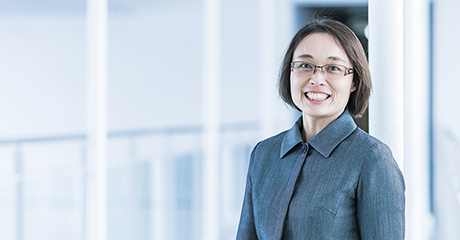 Masayo OGI
Career history
Science, Hokkaido University. She specializes in climatology and meteorology. Prior to her present position, she was at the Japan Agency for Marine-Earth Science and Technology (JAMSTEC), University of Washington (US), and University of Manitoba (Canada). She has participated in weather observations in the Sea of Okhotsk, on the Amur River, in the Arctic Ocean, and in Greenland. Her first research work studied the relationship between sea ice in the Sea of Okhotsk and the discharge of the Amur River. She has also studied atmospheric circulation over the Arctic Ocean, the change of sea ice in the Arctic Ocean, and the mechanisms of abnormal weather.
Her responsibilities as a URA at Hokkaido University
Through university administration and management, she strives to transfer knowledge held at Hokkaido University to the regional society and promote state-of-the-art research and education around the world.
Personal statement
As someone born and raised in Asahikawa City in Hokkaido, I always wanted to someday return and make contributions to Hokkaido. I think that for someone like me, who aspired to work as a URA at Hokkaido University, it is like some kind of divine guidance or fate that I've received this opportunity. I will work as hard as I can to serve my alma mater, Hokkaido University!
---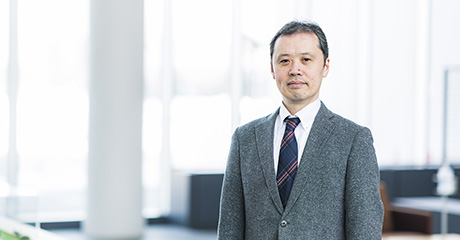 Masaki KATO
Career history
Dr. Kato received his PhD in biological science from the Graduate School of Biological Science, Nara Institute of Science and Technology. Prior to his current position, he worked on the NEDO project as part of the Graduate School of Medicine, Chiba University, at the RIKEN Brain Science Institute (RIKEN BSI) as a specially appointed assistant professor in the GCOE Program of Keio University and as a FIRST program researcher at the RIKEN BSI. He specializes in molecular biology and neuroethology.
Keywords: comprehensive gene expression analysis, language-related genes, vocal communications, Bengalese finch, common marmoset
Details: http://researchmap.jp/makatou07/
His responsibilities as a URA at Hokkaido University
He is active in the program for promoting the enhancement of research universities, the URA Post Establishment Study WG, the WISE Program (Doctoral Program for World-Leading Innovative & Smart Education), EDGE-NEXT, and the Doctoral Program for Data-Related InnoVation Experts (D-DRIVE). He also provides support for grant proposals, conducts research performance analyses, and serves as an assistant department manager.
Personal statement
My goal as a university administration and management professional
I aim to be a capable resource who can understand the university as a whole and manage the organization in a way that maximizes functions.
---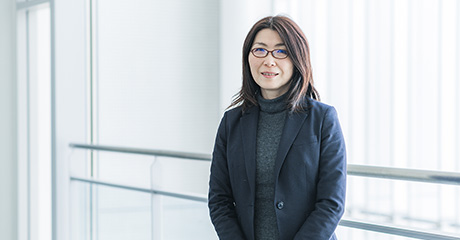 Etsuko NAKANO
Career history
Ms. Nakano completed the doctoral course at the Graduate School of Law, Osaka City University (specializing in European political and diplomatic history—modern German political history). Previously, she worked for the German subsidiary of a Japanese trading company specializing in automobile components, the Jidaigeki Renaissance Project (in charge of German-language activities) at Toei Kyoto Studio Co., and the Research Center for Buddhist Cultures in Asia at Ryukoku University. In April 2015, she was appointed as a URA in the Graduate School of Letters, Hokkaido University. She was appointed to her present post in October 2018. She received qualification as a National Government Licensed Guide Interpreter (German).
Her responsibilities as a URA at Hokkaido University
During her years as a URA in the Hokkaido University School of Letters, she has been responsible for providing research funding—especially Grants-in-Aid for Scientific Research (Kaken-hi)—and she continues to be in charge of the Research Development Section (URA Station). In the School of Letters, support tailored to each instructor's aspirations has been prioritized, but there is a need for an all-encompassing university-level support system. She is now working hard to meet this need. It was her work as an interviewer in the Humanities Café (https://www.let.hokudai.ac.jp/research/cafe/) that left the most vivid memories of her activities in the School of Letters. She savored the joy of close contact with top-level researchers while constantly facing the challenges associated with linking the researchers who spoke at the Café with the audience.
Personal statement
How I became a URA at Hokkaido University
While working in my previous position, I saw a call for a URA in the School of Letters at Hokkaido University. Humanities URAs are rarely recruited. While I wanted to apply, I was hesitant about moving to an unfamiliar region. When I consulted with the director of the research center, he simply said, "If you don't apply, nothing will happen." I made up my mind to apply, and, to my surprise, I was selected. Thinking it must have been fate, I left Kyoto for Sapporo.
The kind of work I want to do from now on as a Hokkaido University URA
While I learn about administrating and managing a university as a member of the URA Station, as a humanities and social science URA, I want to strive to improve the performance of humanities and social science research at Hokkaido University.
Interests, things I enjoy or that make life worthwhile, etc.
I used to enjoy movies, reading, and travel, but I now enjoy playing with my son every day.
---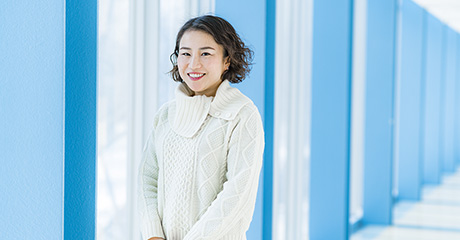 Mami FURUHATA
Career history
Dr. Furuhata completed her PhD at the Graduate School of Law, Hitotsubashi University. Prior to her current position, she worked as a junior fellow in the Faculty or Law, Hitotsubashi University, and then as an alternative representative of Japan to the International Civil Aviation Organization (ICAO) in Montreal, Canada. She specializes in international law and international aviation law. She focuses on peaceful resolutions to international aviation disputes, jurisdiction over actions that threaten safety on aircrafts, and so on.
Her responsibilities as a URA at Hokkaido University
She is responsible for acquiring external funds, promoting joint research through industry-academia-government collaboration, and ensuring compliance with the Convention on Biological Diversity, Nagoya Protocol, ABS.
Personal statement
My goals as a URA at Hokkaido University
I hope to improve Hokkaido University's strength as an academic institution by applying my specialized experience, which includes a background in law and experience with international bodies. This makes me a rarity among URAs.
What delighted me after I became a URA at Hokkaido University
The chance to work in advanced research in a variety of genres, the opportunity to meet researchers from every corner of the university, being surrounded by pleasant people, and the ability to think for myself as I work independently are some of the things being a URA gave me. I also like the open creative research building where I have my office, the Jingisukan (Mongolian Mutton Barbecue) Party culture, and the natural environment around the university.
Interests, things I enjoy or that make life worthwhile, etc.
I play tennis, snowboard, and ski. I relax by watching American comedy programs. I enjoy eating; sweet, hot, sour, herbs, and spices—I love them all. I also enjoy wine and sake.
---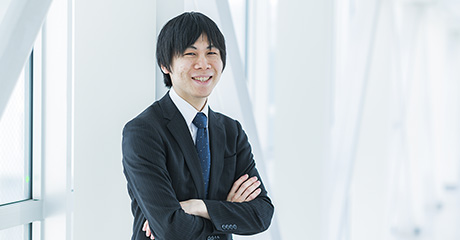 Kosui HORIUCHI
Career history
In March 2008, Dr. Horiuchi graduated from Asahigaoka High School in Sapporo, Hokkaido. In March 2012, he graduated with a bachelor's degree in biological sciences (macromolecules) from the School of Science, Hokkaido University. Then, in March 2014, he earned his master's degree from the School of Engineering, Osaka University, where he specialized in advanced biotechnology. Finally, in March 2018, he earned his doctoral degree from the School of Medicine, Hokkaido University. His specialties are cell biology and optical microscopy. Since May 2018 he has worked as a URA at Hokkaido University (he is now the only newly graduated person employed at the URA Station).
His responsibilities as a URA at Hokkaido University
He supports the operation of the Institute for Chemical Reaction Design and Discovery (ICReDD), launched as part of the World Premier International Research Center Initiative (WPI). He also promotes the work of the Global Facility Center (GFC) and performs IR-related work.
Personal statement
What I keep in mind as a URA at Hokkaido University
I aim to understand the ideas and cultures of research in fields other than biology. I try to maximize the performance of existing frameworks without limitations.
Times I am troubled as a URA at Hokkaido University
It is an environment in which I can work with a high degree of autonomy and can implement various ideas. However, I feel a sense of difficulty when I cannot put an idea into practice.
Interests, things I enjoy or that make life worthwhile, etc.
I am interested in the theater, mainly as a spectator, though I have occasionally been a performer. I also enjoy eating or preparing sweets.
---