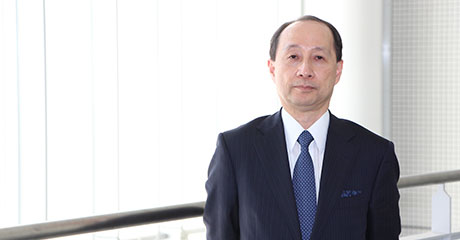 Career history
After completing a master's degree at the Tsukuba University Graduate School of Technology and Science, Hiroshi Abe began working at a chemical manufacturing company. While employed there, he completed his doctoral degree in engineering at the Interdisciplinary Graduate School of Science and Engineering of the Tokyo Institute of Technology.
Responsible for plastic materials, molding technologies, and product development, he was stationed in Europe, where he selected technical information and introduced in-house technologies to Europe. He was responsible for new businesses, from planning to promotion management, at an in-house think tank company, and was also responsible for finding research partners and venture companies, mainly in Europe and North America, and promoting internal development. In the Environmental Management Department, he conducted environmental management of the entire company and actively promoted ESG and SDGs.
He has served as an examiner at NEDO and JSPS and as a visiting professor at Tohoku University, Hiroshima University, and a temporary lecturer at Osaka University, etc.
He was appointed to his current position in October 2019 and has a special interest in manufacturing, technology promotion, and human resource development.
"My whole motivation is to be grateful for every moment and every day in my life. I enjoy cooking and having afternoon tea with my wife on weekends."
His responsibilities as a URA at Hokkaido University
Keeping in mind the Future Strategy for the 150th Anniversary of Hokkaido University of becoming "a university that contributes to the resolution of global issues," as a URA, Dr. Abe would like to plan and propose new initiatives to the university. He intends to focus on university management, collaboration with the local government, and start-ups.
Personal statement
What I want to work on as a Hokkaido University URA
This is the only university in Hokkaido capable of fully exploring nature's infinite possibilities. I want to make it a world-class hub that attracts both students and government-industry-academia collaboration from all over Japan, Asia, and the world.
My love for Hokkaido University
Hokkaido University gave me a new life after my company career as a professional, new possibilities, and challenginge opportunities. I'm grateful that I was proud to could become a member of Hokkaido University, and I want to do my best to contribute toward its progress everything.
My goal as a university management staff member
Since they were being implemented seven years ago, the Hokkaido University URAs are beginning have started to get proud results. My goal is to take this progress further and develop URA human resources that can contribute and succeed not only at Hokkaido University and in Hokkaido but also in Japan and throughout the world.