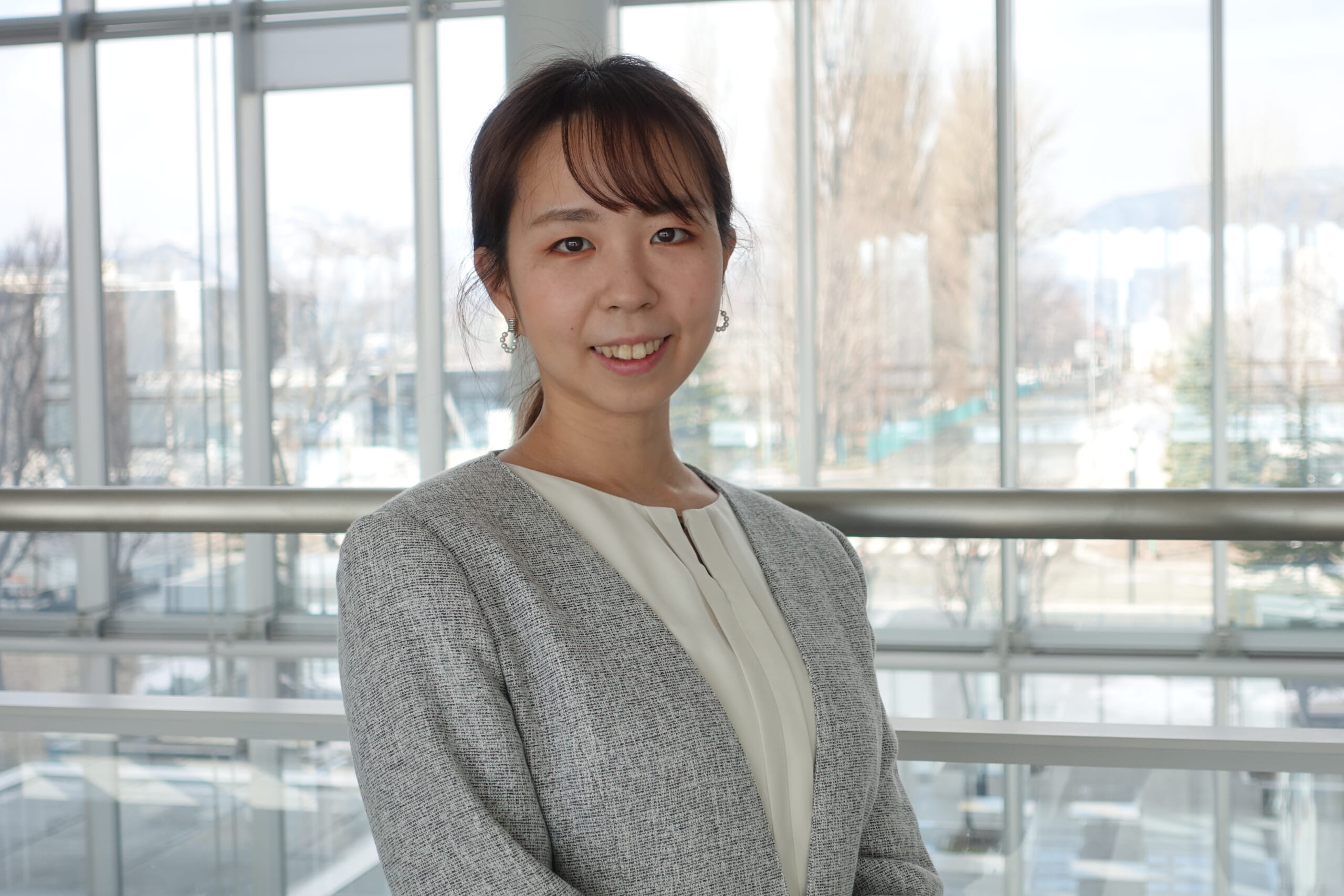 Career history
After graduating from high school in Fukuoka Prefecture, Ms. Kubota enrolled in the Faculty of Engineering at Hokkaido University. Following the completion of her master's degree at the Graduate School of Chemical Sciences and Engineering, she pursued a career in design and development of industrial products at a tire manufacturing company. However, due to a significant life event, she decided to return to Hokkaido. With a strong attachment to her alma mater, she aspired to contribute in some way, and thus she joined the Hokkaido University Institute for Catalysis as a specialist staff, engaging in tasks such as bibliographic analysis for the institute. She took a temporary leave of absence to focus on childbirth and childcare, but starting from January 2023, she has resumed her position as a specialist staff at Hokkaido University in the URA (University Research Administrator) role.
Responsibilities as a URA at Hokkaido University
She is currently a member of the acquisition of large-scale research funds as a member of the Commissioned Research Team under the External Funding Group. Additionally, she handles tasks such as institutional research (IR) analyses and engage in duties at the Institute for Catalysis several days per week.
Personal statement
How I became a URA at Hokkaido University
I decided to pursue a position at Hokkaido University as a URA based on the recommendation of the professor who had supported me during my previous employment at the Institute for Catalysis. Furthermore, I believed that this environment would provide an opportunity for me to leverage my past experience effectively.
What is good for me to get a URA-position at Hokkaido University
I find it interesting to gain insights into the behind-the-scenes operations and management of the university where I spent my student years. As a URA, I have the privilege of being exposed to various learning opportunities, including training workshops and seminars. This enriching environment enables personal growth beyond the scope of regular job duties.
Self-promotion (free description)
During my six years as a student, I developed a deep love for Hokkaido and Hokkaido University. I am determined to contribute to my alma mater by working hard every day as part of an External Funding Group to support researchers at Hokkaido University.
My hobbies, things I am crazy about, sources of fulfillment in life, etc.
I have fallen into the world of spices. I enjoy contemplating the blend of spices for Indian curries and attempting to recreate curries I've tasted during my travels abroad. I am grateful for my family who, even when my attempts fail, graciously eat the dishes without complaints.